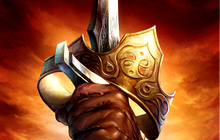 Yorkieboy91

Real Name

Sean.

Residence

Kingston Upon Hull East Yorkshire England

Ethnicity

English.

Favorite Video Games

Fable/TLC, Fable II, Tomb Raider, Batman Arkham Asylum & Arkham City, The Sims, Resident Evil and Sonic The Hedgehog.

Other Intrests

British & Irish History, Greek Mythology, Urban Legends.

Stories

Fable: Vengeance

Fable: Return To The Void
I have finished my first fan-fiction Fable: The Queens Revenge just a few weeks ago and I'am in the process of writing it's prequel Fable: A New Kingdom the main story line will consist of 4 stories and there will be 1 stand alone title.
I'm not very good at spelling so if you come across any mistakes then please feel free to correcet them.
Hope you enjoy reading my story and please leave a comment and reveiw.
Community content is available under
CC-BY-SA
unless otherwise noted.